posted 3 years ago
7 Reasons To Love The Range Rover Evoque Convertible
We've listed some of the best things about the upcoming Range Rover Evoque Convertible...
Land Rover have taken a big risk after showcasing their new Range Rover Evoque Convertible at the Los Angeles autoshow. They are preparing to hit the showrooms with one of their most bizarre, unique and daring vehicles so far. As the release date gets closer and closer, we're certain that they've actually hit the nail on the head. This is a risk that will almost certainly pay off. Here's why:
1 - 'World's First Luxury Compact SUV Convertible'
The Evoque Convertible has been welcomed with a 'Marmite reception' - some people love it, some people... Not so much. At this stage though, credit must be given to Land Rover for creating a truly pioneering vehicle that fills a market segment which never really existed before. Remember, the Evoque in it's normal form was welcomed with some raised eyebrows, but they have since sold like hotcakes and it is still the most desirable compact SUV on the market. The public are scared of the Evoque Convertible because it is different, but people like being different, especially when everyone else is being different.
2 - Most Capable All-Terrain Convertible In The World
Some manufacturers who have entered the luxury SUV segment didn't bother creating a 4x4 with genuine off-road performance, instead focussing on luxurious interiors and glitzy exteriors to attract the more superficial buyers, but the same cannot be said for the Evoque convertible, and every Range Rover in fact. It is in the DNA of the Land Rover brand to create capable, versatile off road vehicles and this exists in the Evoque Convertible too, which comes with wading depth technology to safely navigate deep water, and hill descent control for steep terrain - none of which will be used on the school run but it's nice to know Land Rover still care.
3 - It's Economical!
Land Rover will fit the Evoque convertible with the 2.0 litre diesel 'Ingenium' engine that exists elsewhere in the Jaguar/ Land Rover range. This is an aluminium-based, turbocharged 4-cylinder unit and it will return around 55mpg when driven carefully - a figure which didn't really exist in the SUV market 10 years ago.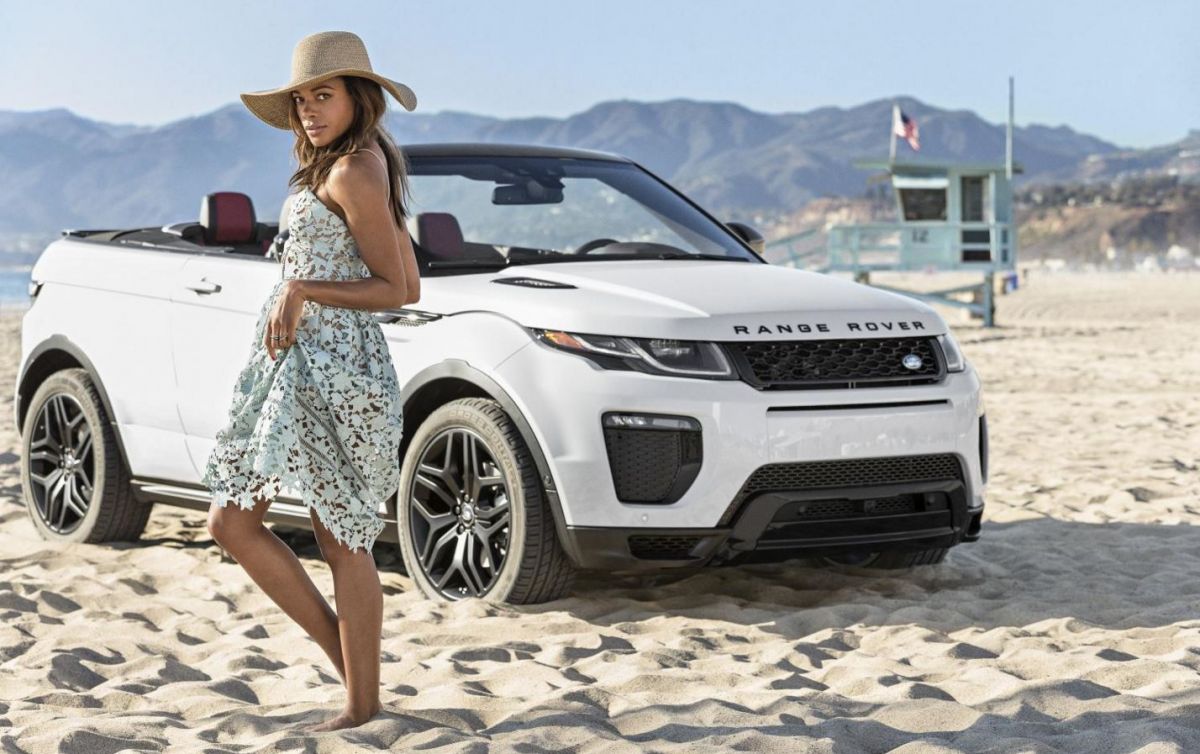 4 - It's Brimming With Safety Kit
Land Rover has packed the Evoque with clever safety kit which is helpful, but not intrusive. Land Rover respect that some safety technology can be considered detrimental to the driving experience, so they have applied them subtly. For example the minor vibrations through the steering wheel to let the driver know they are merging out of the lane. Subtle but effective. Our favourite piece of kit is the extending rollover bars, which shoot up in 90 milliseconds if the car overturns, protecting the passengers inside. Have a look at the safety kit below...
5 - The Z-fold Roof
The roof mechanism on the Evoque convertible will take just 18 seconds to retract and 21 seconds to put back up, and this can be done while the vehicle is moving at speeds of up to 30mph. All this happens seamlessly as the four electric motors operate almost silently and, finally, once retracted the soft top sits flush above the boot, ensuring a smooth aesthetic.
6 - It's In Their DNA…
One common complaint about the Range Rover Evoque Convertible is that it is too far from the brand's core values. Some say Land Rover have neglected their identity to appeal to a more mainstream audience… Not true! This isn't the first time Land Rover have used a soft top, it's just that they haven't done it for a while. Military vehicles from Land Rover Special Operations have been soft tops for decades, they were even available through showrooms up until 1994 on the Land Rover Defenders. So don't panic, they know what they're doing!
7 - It's Not a Compromise
If you've ever driven any conventional soft top vehicle ever, you'll know that road noise is increased tenfold and refinement is compromised every time. Not with the Evoque. Land Rover claim: "a layer of acoustic insulation ensures interior comfort on a par with five-door Evoque." Better still, you don't even need to compromise boot space which offers a cavernous 251-litres of room, an unrivalled capacity for any convertible on the market.
Regardless, it will be interesting to see how well these cars sell, and equally interesting to see how public perception will change as we become more accustomed to seeing this car out on the roads. We can't wait, but what are your thoughts? Let us know in the comments section below...
Subscribe to Our Newsletter
Free giveaways, offers & exclusive content