posted 3 years ago
Camera That Sees Around Corners Tames Restricted View Junctions
New safety technology: front split-view camera sees around corners to make it easier for motorists to exit junctions.
Ford Front Split-View Camera Explained
Ford has launched a front spilt-view camera that enables the motorist to more safely emerge from junctions that have a restricted view. Its purpose is to minimise the need to crawl forward, strain for a partial view around (say) a hedge, then emerge without being sure the route is clear. The European Road Safety Observatory SafetyNet Project has suggested that nineteen percent of drivers that have a collision at a junction are impeded by a restricted view. Furthermore, the Department for Transport said that, in 2013, poor external visibility contributed to eleven percent of accidents. This implies the technology could save lives.
Ford of Europe Engineer Ronny Hause said: "It's not just blind junctions that can be stressful, sometimes an overhanging tree or bushes can be the problem. Simply driving off driveways can be a challenge. Much like a rear-view camera, front split-view camera is one of those technologies that people will soon find indispensable".
How Ford Front Split-View Camera Works
The camera is mounted to the grille. It measures thirty-three millimetres in diameter, has a one megapixel resolution, and looks to the left and right. Both images are simultaneously presented via an eight-inch colour screen on the dashboard. These could reveal (say) a cyclist, pedestrian or large vehicle. The motorist then waits for the hazard to pass before pulling out with confidence. The camera is activated via a button so does not have to be permanently on. It is cleaned courtesy of a retractable water jet.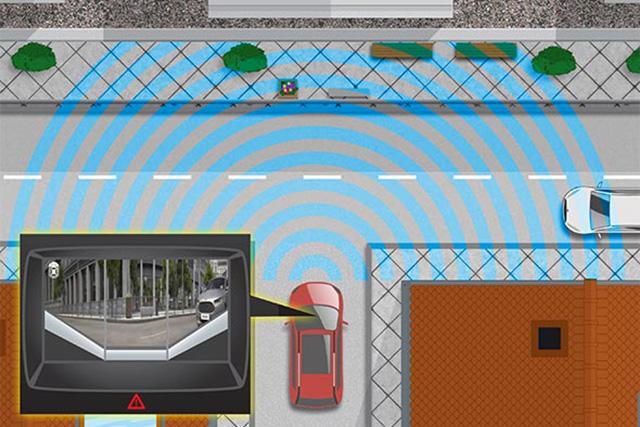 Ford Split-View Camera Tested
The system has been tested in a variety of conditions to ensure it operates properly. Ronny Hause added: "From sunrise to sunset we tested the front split-view camera on all kinds of roads, congested urban streets and areas with a lot of cyclists and pedestrians." Hause concluded. "Tackling tunnels, narrow alleys and garages in all light conditions also meant we could ensure the technology worked well even when sunlight was shining directly into the camera."
Ford Front Split-View Camera Makes Driving Safer
Keith Freeman, AA Quality Training Manager in the UK, said: pulling out on a blind junction can be a tricky manoeuvre for new and experienced drivers alike. He added: "This technology will certainly make emerging from anywhere with a restricted view so much safer and the experience less nerve-wracking for those behind the wheel."
Ford Front Split-View Camera Availability
The Ford Galaxy and S-MAX are available with the front split-view camera (optional). The Ford Edge – that will launch in Europe later in 2015 – will also incorporate this "first in segment" technology.
Subscribe to Our Newsletter
Free giveaways, offers & exclusive content