posted 1 year ago
New Aston Martin Vanquish S Red Arrows Edition For 2017
Overview of the special features that link this new, limited edition, grand tourer to the aeronautical display team.
Production numbers strictly limited
The Aston Martin Vanquish S Red Arrows Edition is a new, highly exclusive, version of the brand's grand tourer and production is restricted to 10 examples. As the name suggests, it pays homage to the aeronautical display team via a range of enhancements. Extras come courtesy of Q By Aston Martin: the personalisation specialist.
Exterior features
The Vanquish S Red Arrows Edition has Eclat Red paint, which is reminiscent of the Hawk T1 fighter favoured by the display team. White and blue carbon livery sits low on the bodywork to represent the smoke that emerges from planes during the shows. Union Jack badges and a titanium exhaust system further optimise the exterior.
The exposed, carbon fibre, roof panel has a black/grey finish. It also incorporates an "inlaid charge pattern" that "mimics the canopy design of a fast jet", the manufacturer explained. Such features complement the muscular, purposeful, overall styling that is modern - yet reminiscent of the manufacturer's classic vehicles.
Interior features
The interior is special, too. The Red Arrows emblem portrays aircraft in a diamond formation. It is embroidered onto the front seats. Pinewood Green inserts on the seats, door cards and steering wheel represent the classic flight suit and Martin Baker Ejection Seat. The seatbelts stand out thanks to their green webbing finish.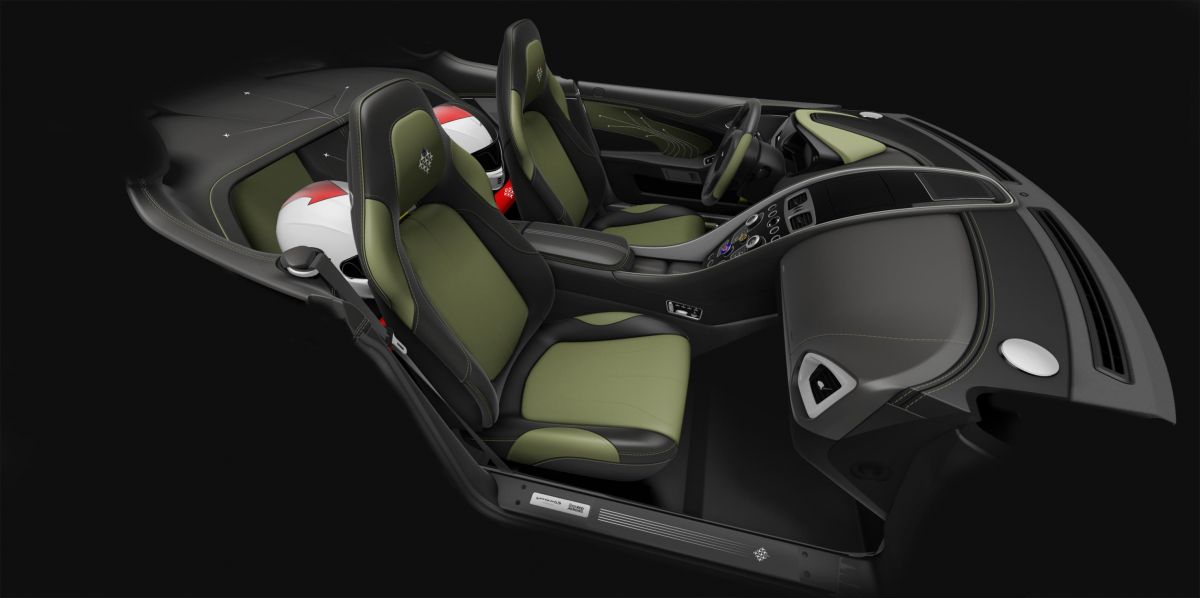 Furthermore:
The door cards incorporate a representation of the Vixen Break; a high g-force, multi-aircraft, formation
The steering wheel has a bespoke, central, rotary toggle switch that is inspired by aviation instruments and switchgear
The Royal Air Force Aerobatic Team logo is embroidered on the transmission tunnel
The unique sill and engine plaques emphasise this limited edition's status
The engine plaques are signed – 1 to 10 – by the equivalent number pilot in the squadron
The 2+0 seat configuration enables motorists to store twin, themed, racing helmets immediately behind the front seats
Engine, power and performance
The Aston Martin Vanquish S Red Arrows Edition has power to complement its special, limited edition, styling. The 6.0-litre V12 petrol engine – which is teamed to 8-speed automatic transmission (with manual mode) - produces 600PS and 630Nm of torque at 5,500rpm. Expect 0-60mph in 3.5 seconds plus a top speed of 201mph.
Personalised extras
Buyers receive a range of personalised extras to complement the vehicle. Options include a: racing helmet, racing suit, bomber jacket, luggage set and a die-cast model of the vehicle and the Hawk T1 (1:18 scale). 9 of the vehicles can be purchased, but the tenth is being raffled to raise money for The RAF Benevolent Fund.
Subscribe to Our Newsletter
Free giveaways, offers & exclusive content