posted 3 years ago
Nissan Qashqai & X-Trail Premium Concepts Revealed
Nissan creates premium, concept, versions of its popular crossover class models to attract luxury-loving motorists.
Nissan prepares for Geneva Motor Show 2016
Nissan revealed a sneak preview of premium, concept, versions of existing cars ahead of the Geneva Motor Show that kicked off on March 3rd 2016.
The Qashqai Premium Concept and X-Trail Premium Concept showcase: "How tailored features and customisation could extend each car's customer appeal", the motor manufacturer claimed.
Nissan explained: "The Qashqai has been designed for the premium urbanite, who dreams of a weekend absorbing the cultural highlights of a European destination city such as Geneva, Paris or Rome."
In contrast, "X-Trail is targeted for the premium adventurist who will be thinking of mountain adventures in the Alps or Pyrenees".
Nissan Qashqai Premium Concept features
The Qashqai Premium Concept has matt black as its "dominant" exterior colour. It complements "high quality premium golden copper-coloured" flashes on the wheel arches, headlamp clusters, roof rails and the leading edge of the front bumper.
Furthermore, lower sections such as the front bumper incorporate "authentic carbon fibre" and the "enhanced v-motion grille gives purpose to the car's nose". The 20" machined alloy wheels – that again have copper colouring – complete the striking exterior look.
Nissan said the cabin "redefines premium quality in the compact crossover segment". Strengths include its soft, white, leather seats that have a quilt finish on central parts of their backs and bases.
Leather complements carbon fibre throughout with flashes of golden copper, and the satin chrome and black gloss steering wheel.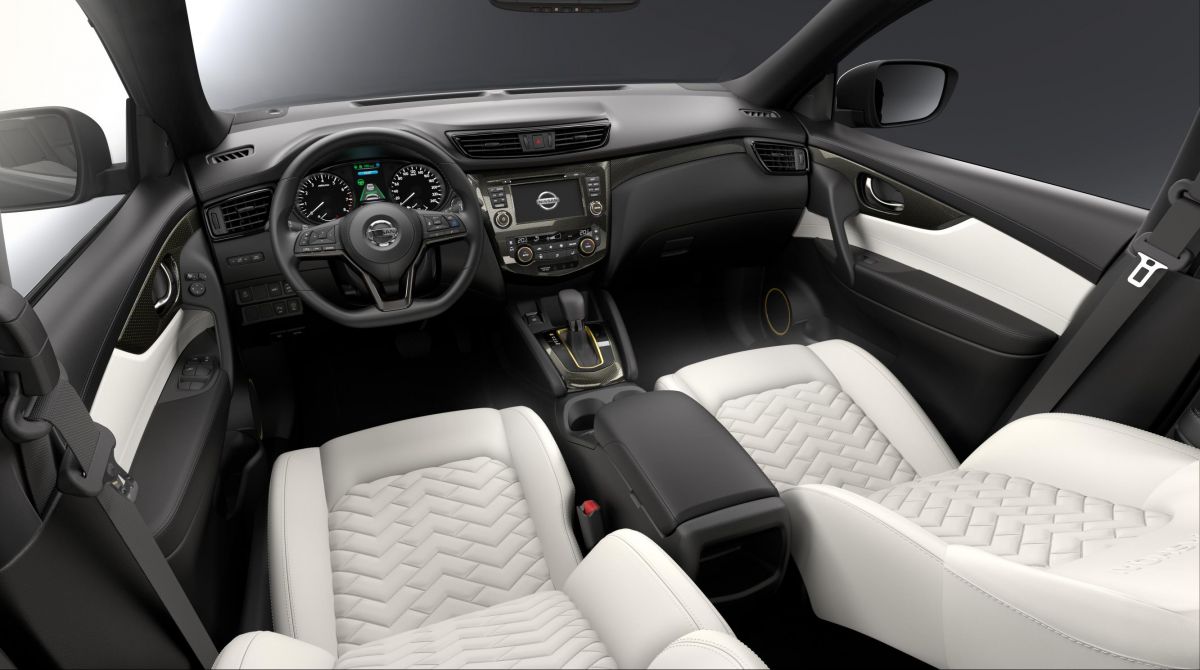 Nissan X-Trail Premium Concept features
The Nissan X-Trail Premium Concept has a predominantly matt white exterior. The bonnet and roof, in contrast, have a black matt carbon fibre finish. Golden colouring graces the front skid plate, the top of the arches, a region close to the sills plus the wheels.
The X-Trail cabin has premium leather upholstery "with a natural tan and black colour scheme that reflects the car's appeal to adventurous customers", Nissan said. Furthermore, its dashboard and door trim have a black carbon fibre finish for "premium sports appeal".
Subscribe to Our Newsletter
Free giveaways, offers & exclusive content