posted 4 years ago
Safety Charity: Use Technology To Stop Mobiles Working In Vehicles
Thousands Of Drivers Using Hand-Held Phones Behind The Wheel
Mobile phones should have a system that prevents them working in vehicles as they were illegally used by 1.6% of drivers in England and Scotland in 2014, the Institute of Advanced Motorists claims.
The figure comes courtesy of the Transport Research Laboratory and includes the motorists that held a mobile device – perhaps to check e-mail - and those that held one to their ear (both while driving).
Van drivers were the most frequent class of offender as 2.7% broke the law. This was followed by car drivers (1.4%), goods vehicle and lorry drivers (1.2%) then bus, coach and minibus drivers (0.4%). The worst by age was the 17 to 29 bracket, at 5.2%. Men offended more often than women with figures of 1.7% and 1.3%, respectively.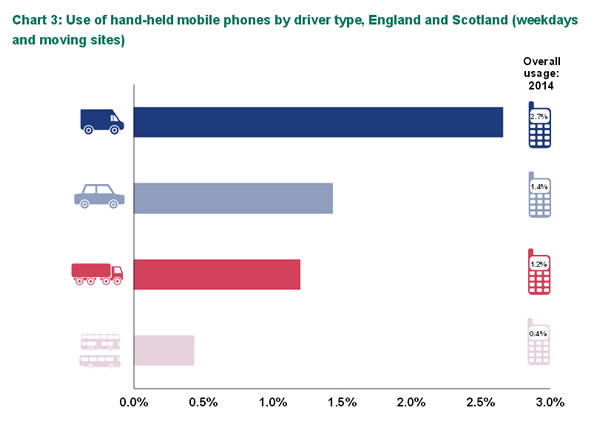 Results Not Surprising
The Institute of Advanced Motorists Director of Policy and Research, Neil Greig, explains: "The results are very disappointing but not at all surprising." He theorised: "Campaigners routinely talk about the inherent dangers of the distraction caused by mobile phone usage, but drivers never believe they will be caught."
Mr Grieg adds: "Technology has caused this problem, so it should come up with a solution too. There are phones that have sensors within them which detect the motion of a car, and can then immediately shut down calling and texting functions. This should be universal."
Bluetooth Not The Answer
Mr Grieg explains that Bluetooth devices that enable motorists to take calls hands-free are "no better" as taking a call is still a "major distraction". He says: "Safe driving is everyone's responsibility: drivers, those calling them, and most importantly those employing them. The horrendous figures for van users show that fleets and companies must have clear and consistent mobile phone policies that are enforced. If using a phone while driving is against company policy then disciplinary action must follow."
The Solution
Mr Grieg claims that safety campaigns – such as those run by THINK! and the Department for Transport – need to be "revived and invigorated with stronger messages" such as "mobile phone usage at the wheel can kill – there's no two ways about it."
He adds: "Tackling mobile phone usage must be a government priority for 2015. People must have the fear of being caught increased as we believe this is the only viable deterrent. Mr Grieg's conclusion is that this approach "needs an increase in visible policing".
Subscribe to Our Newsletter
Free giveaways, offers & exclusive content