4x4s & SUVs (or Crossovers) have strengths that appeal to a wide range of motorists. Typically, for example, expect rugged exterior styling that in many circles is considered fashionable. 
A tough look is often blended with a large boot that has a boxy, estate-like, shape to make it easy to carry hefty items such as furniture. 
Furthermore, 4-wheel-drive enables them to master tricky terrain such as snow, ice, mud and rain plus more serious, off-road, challenges.
The following list highlights some of the best on the market; each of which has a special core strength to help it excel.
10. Dacia Duster 1.6 16v 115 Access 4x4 (manual)
The Duster 1.6 Access 4x4's core strength is its remarkably low price. It is among the cheapest sports-utility vehicles on the market, after all.
From £11,495, this workhorse has 5 doors, 6-speed manual transmission, hits 62mph in 12 seconds and the 115hp petrol engine averages 41.5mpg. The carbon emissions total 155g/km. 
The Duster is practical too. Cargo capacity is 408-litres rising to an estate-like 1,570 with the rear seats folded flat. Standard equipment is basic to ensure there is very little to break.
It includes: power steering, front/passenger/side airbags, electric front windows, steel wheels, central locking and stability control.
9. Volvo XC90 2.0 D5 Momentum AWD Geartronic (Automatic)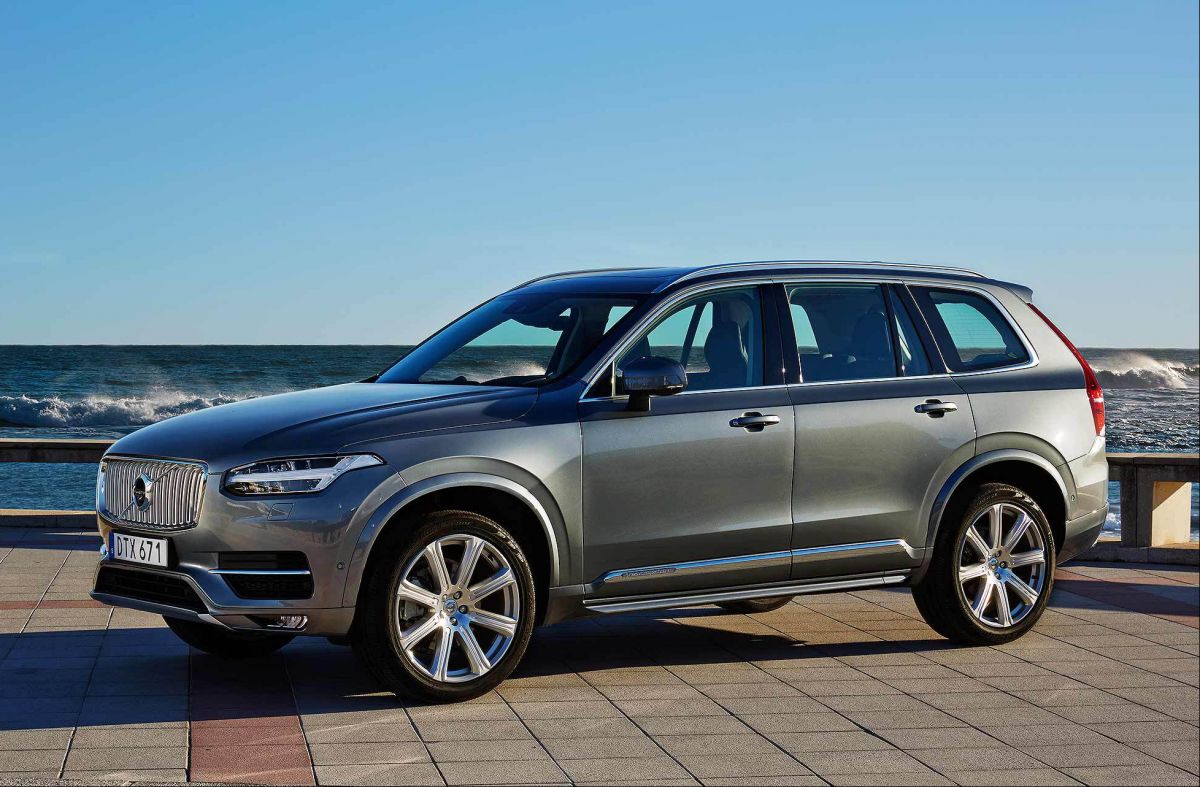 Search Volvo XC90 finance deals
The Volvo XC90 range earns plaudits for safety features such as the automatic emergency braking system, very strong body shell and stability control.
Euro NCAP – the independent body that assesses vehicle safety – awarded this large sports-utility vehicle a maximum "5 star" rating, plus a "best in class" accolade for 2015. 
The 2.0 D5 Momentum trim has a diesel engine, 8-speed auto transmission, produces 225hp, hits 62mph in 7.8 seconds and averages 49.6mpg. Emissions total 149gkm.
Cargo capacity is 314-litres rising to 1,868-litres with the rear seats flat. This fashionable workhorse also has 7 seats and prices start at £46,250.
8. Porsche Cayenne Turbo S Tiptronic S (Automatic)
Search Porsche Cayenne finance deals
The Porsche Cayenne's most obvious qualities are monstrous power and blistering performance. The Turbo S Tiptronic S trim, for example, has a 4.8-litre, 570hp, petrol engine that propels it to 62mph in 4.1 seconds.
That is faster than some 911s. This sports-utility class model also returns 24.6mpg with emissions of 267g/km.
Further strengths include the prestigious badge, pleasing styling and luxurious interior. Cabin features include 2-tone leather seats, heated multi-function steering wheel and the BOSE stereo system.
The large alloy wheels and coloured brake callipers further increase this fashion statement's appeal. Prices start at £119,610. 
7. Suzuki Jimny 1.3 VVT Adventure (Manual)
Search new Suzuki Jimny cars for sale
The Suzuki Jimny earns plaudits for its compact proportions that make it easier to manoeuvre than most rugged, off-road, vehicles with high ground clearance.
It is shorter than a new Fiesta, in fact. Despite its proportions Suzuki says its "genuine off-road capabilities" make it a "cult classic" and indispensable to owners.
The 1.3 VVT Adventure petrol produces 85hp, has 5-speed manual transmission, propels motorists to 6mph in 14.1 seconds, averages 39.8mpg and emits carbon at the rate of 162g/km.
The Jimny also has 3 doors and a modest, 113-litre, cargo capacity. Standard toys include synthetic leather upholstery and prices start from £14,949. 
6. Nissan X-Trail 1.6 dCi Tekna (Manual)
Search Nissan X-Trail finance deals
The Nissan X-Trail 1.6 dCi Tekna's futuristic specification is a core strength. Highlights include the around view monitor that provides a 360 degree, bird's eye, view of the surroundings to make parking straightforward.
The images come via a camera on each side.
This top-spec sports-utility vehicle also has hill-start assist, blind spot monitor, lane departure warning and automatic emergency braking.
Expect 0-62mph in 11 seconds – courtesy of the 130hp diesel engine and 6-speed manual gearbox – plus 52.3mpg, emissions of 143g/km and 7 seats. Cargo capacity is 550-litres rising to 1,982-litres when the rear bench is folded flat. All from £32,720.
5. Audi Q7 3.0 TDI 218 Quattro SE (Automatic)
The Q7 3.0 TDI 218 Quattro SE is a spacious, family, hold-all and that is praiseworthy. With the third row of seats flat – there are 3 rows as it has room for 7 people – boot capacity is a vast 770-litres. Folding the middle row flat expands volume to 1,955-litres.
It has other cargo carrying virtues such as the optional load area fixing kit that includes a telescopic bar/belt to divide the boot. It complements the optional electric cover and reversible mat (rubber/carpet).
Expect 0-62mph in 7.3 seconds from the diesel engine, 48.7mpg, emissions of 150g/km, plus a price tag of £47,755.
4. Range Rover Evoque 2.0 TD4 Autobiography (Automatic)
Search Range Rover Evoque finance deals
The Range Rover Evoque's core strength is that it is tremendous off-road thanks, in part, to the terrain response system. Its purpose is to tweak the response of the engine, transmission, differentials, etc. to best suit the conditions.
Mode settings include general driving, grass/gravel/snow, mud and ruts, and sand.
The Evoque also has hill-decent control and the optional wade sensing system confirms the depth of any water (0.5 metre maximum). The 2.0 TD4 Autobiography has 180hp diesel engine, 9-speed auto transmission, propels motorists to 62mph in 9 seconds, returns 55.4mpg, emits carbon at the rate of 134gkm and costs from £51,800.
3. Kia Sorento 2.2 CRDi KX-1 (Manual)
Search Kia Sorento finance deals
The Kia Sorento 2.2 CRDi KX-1 stands out thanks to its 7 year, 100,000 mile, manufacturer warranty (unlimited mileage within the first 3 years).
There are, of course, limitations and exclusions such as windscreen wipers blades and clutch linings - but any cover over this period implies the company has confidence in its product.
The Sorento has 7 seats and its 194hp diesel engine propels motorists to 62mph in 9 seconds. This power plant is teamed to 6-speed manual transmission, averages 49.6mpg and emits carbon at the pace of 149g/km.
Standard equipment includes climate control, cruise control and rear parking sensors; and it costs from £28,795. 
2. BMW X5 xDrive40e SE (Automatic)
The BMW X5 xDrive40e SE's environmental credentials are praiseworthy as its carbon emissions are 77g/km. That is low for any type of car – to say nothing of a SUV – and ensures it qualifies for free road tax.
This petrol/electric hybrid averages 85.6mpg, hits 62mph in 6.8 seconds, and has a 8-speed auto gearbox.
Standard equipment includes front/rear parking sensors, satellite navigation, remote tailgate release, start/stop button and the electronic handbrake.
There is also comfortable seating for 5 people and cargo capacity is a pleasing 500-litres. Muscular styling further enhances its status and prices start at £52,105.
1. Jeep Renegade 2.0 Multijet Trailhawk (Automatic)
Search Jeep Renegade finance deals
The Jeep Renegade 2.0 Multijet Trailhawk looks like no other vehicle on the market – and that virtue finds favour in many circles.
Jeep highlights its tail lamps that "feature a vintage military gas can", and the optional black hood decal that "further enhances the aggressive and tough stance" of this in-your-face SUV.
The 2.0 Multijet Trailhawk diesel version produces 170hp, hits 62mph in 8.9 seconds, averages 48.7mpg with emissions of 151g/km. This workhorse also has 5 seats and cargo capacity is 351-litres.
Standard equipment includes heated front seats, dual-zone climate control, privacy glass plus satellite navigation. All from £28,595.