'Range anxiety' is a new term which has been coined to describe the feeling of running out of charge in an electric car. It's something a lot, if not all, EV owners have come across at some point and is certainly anxiety inducing. Manufacturers are trying to overcome this by increasing the range of their EV's with bigger batteries and more efficient vehicle management systems. Today we're listing the 10 EV's which can go the furthest on one single charge.
10 -  Volkswagen E-Golf - 83 miles
Starting off with the VW E-Golf , which is not to be confused with the hybrid Volkswagen GTE. Based on a typically fantastic hatchback, you'd think the electric vehicle would follow suit. While it boasts many of the practicality and comfort perks of the standard hatchback, the electric model offers 83 miles of range which should be fine for most people on a day-to-day basis, but you'd be forgiven for wanting more from a full charge.
9 - Peugeot ION - 93 miles
The ION features a 66bhp electric motor powered by lithium-ion batteries and a standard household power outlet can give it a full charge in 7 hours, which isn't bad. The car has plenty of room for 4 people and boasts short, narrow dimensions meaning parking is easy. 
 The car starts at £12,495 which is a lot for a city-car, but not a lot for an EV and you should make the difference back through ownership.
8 - Citroen C-Zero - 93 miles
The Citroen C-Zero is essentially the Peugeot ION but with a different badge on the front. It starts at the exact same price too. The dealership network should be the only reason you choose one over the other - go with whoever is more convenient for you (when servicing comes around) and offers you the better deal, of course...
7 - Volkswagen E-UP! - 93 miles
While it may sound like a welcoming greeting between northerners the 'E-up!' is a properly good city car. The standard up! has been the city car of choice after winning over the hearts of motoring journalists across the county and the electric version uses all the same parts except for the engine. Instead you're given an 81bhp electric motor with an 18.7kwh lithium ion battery. There are no compromises on interior space either, unlike some rivals, so it's certainly a car that will be easy to live with, but is a 93 mile range enough to dispel range anxiety for you?
6 - BMW i3 - 99 miles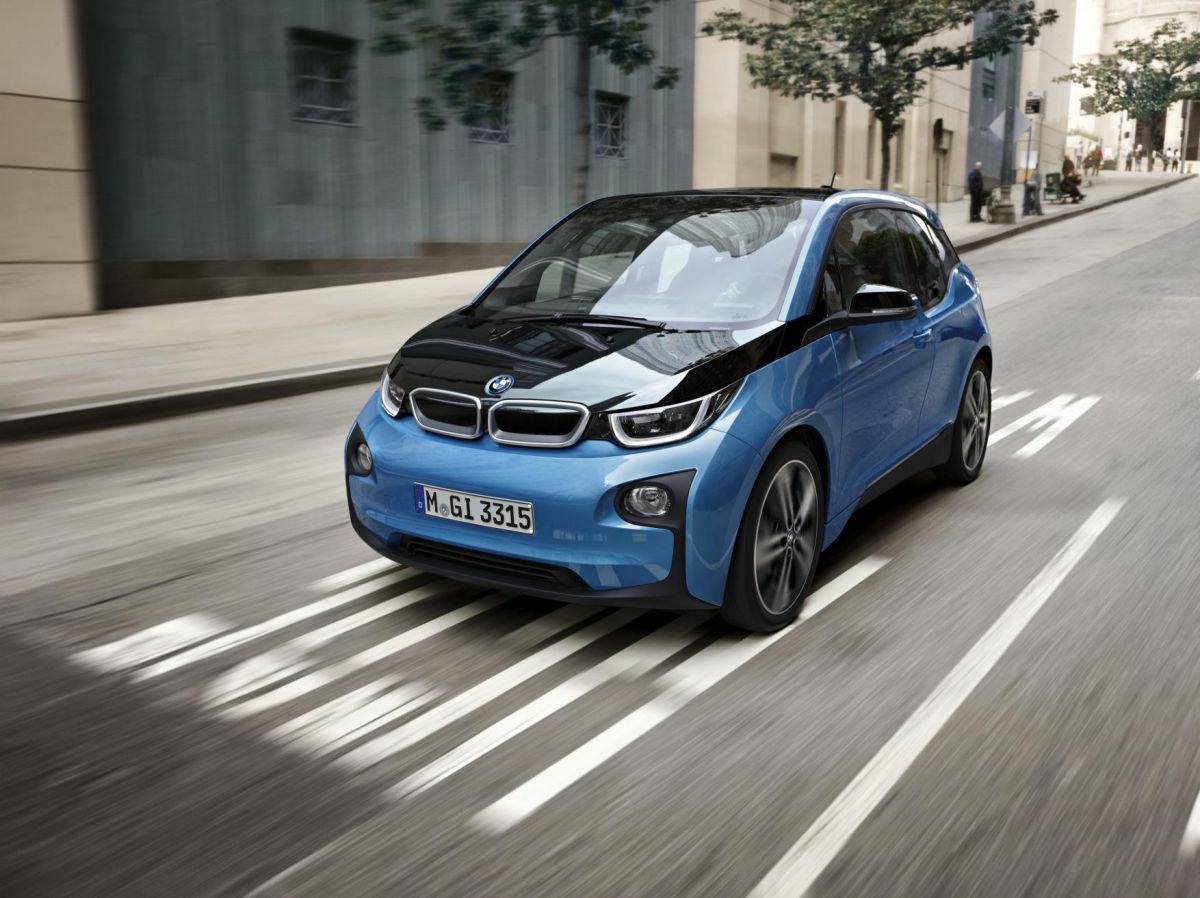 If you're a bit of gadget-geek and you like futuristic concepts and technology, the i3 is the one for you. Featuring a state of the art interior with natural and recycled materials, the i3 is a realy style icon and offers an upper-class option to the EV market. As well as boasting a prestigious BMW badge the i3 does offer a premium interior with a fantastic build quality. 99 miles should be plenty too, and real world testing suggests this isn't too hard to achieve. The starting price of £30,980 is rather steep though…
5  - Mercedes B250e - 124 miles
Mercedes took a brave and intuitive move to apply electronic technology to an already existing car. This means parts and production were more affordable and, because they're on the same production line, they can build to order and avoid having surplus cars. The B250e is actually a quick car as well as supremely comfortable and spacious, it will do 0-60mph in 7.9 seconds. 
4 - Renault ZOE - 130 miles
A top-performing EV from Renault exists in their Zoe model. A small hatchback/ city car which boasts smooth styling and very easy-going running costs. The Zoe shares the interior with the sensible Clio hatch and doesn't feel like a huge leap from a traditionally powered car to a futuristic EV, which some buyers will certainly welcome. To the untrained eye the ZOE looks like any other petrol powered cars, there are no quirky design cues or bright colours to indicate there's an electric motor keeping it going. This is another selling point, some people just want to blend in, not everyone wants to stand out shouting "look at me I'm in an Electric Vehicle."
3 - KIA Soul EV - 132 miles
Based on the top-selling KIa Soul, which boasts individual styling and boxy proportions, is the new Soul EV. It comes with a class-leading 7 year warranty and the maintenance plans last 5 years and are only £328 too. Best of all, it costs just £2 for a full charge overnight and this will get you a whole 132 miles. There is only one spec-level available in the Soul EV but it comes with plenty of standard kit, sat-nav, heated seats, DAB radio, keyless entry and so on. The Soul EV is a very nice to car to own.
2 - Nissan LEAF 30kwh - 155 miles 
Arguably the most iconic EV on the market and by far the most popular. The Nissan LEAF now comes with a bigger battery offering more range than ever before, a further 20% on top of the previous model. A whole 155 miles can be achieved by the new LEAF and it can be charged up to 80% in just 30 minutes, which is seriously impressive. With the new LEAF you also get an improved multimedia system with 3D sat-nav DAB and an app to find your car via smartphone. All very clever.
1 - Tesla Model S 90d - 310 miles
The Model S has been a real gamechanger from Elon Musk, ex-CEO of PayPal. The Model S is the most forward thinking and advanced car of the last decade. Using futuristic lithium ion battery packs the Model S achieves over 300 miles on one single charge, with the manufacturer claiming up to 346 miles - staggering. It comes at a price - £68,400 to be exact. As well as the range you also get a 0-60mph time of just 4.2 seconds, autonomous drive mode and a top speed of 155mph.